Keep Yourself Cool In The Sun With
High-Quality, Custom Bucket Hats In UK
Check out Caps Company UK's largest collection of bucket caps that can be customised in shape, size, colour or pattern! Crafted with the highest quality material, we guarantee our personalised bucket hats are going to serve you lifelong.
Custom Made Bucket Caps In London, UK - You Imagine, We Manufacture
Design your bucket hat in any way possible, by using a variety of personalisation options offered by us.
You can personalise your bucket hat using any material, in any size, add any design or choose any finishing options.
Clear and fast customer service is crucial for any business. We make sure our teams are available 24/7 to help you out, timely.
Our custom bucket caps are known for effectively blocking UV rays as they are made from quality material or fabric.
Afraid of placing bulk orders because it will make you bankrupt? No more, as we hash down prices to half for bulk orders.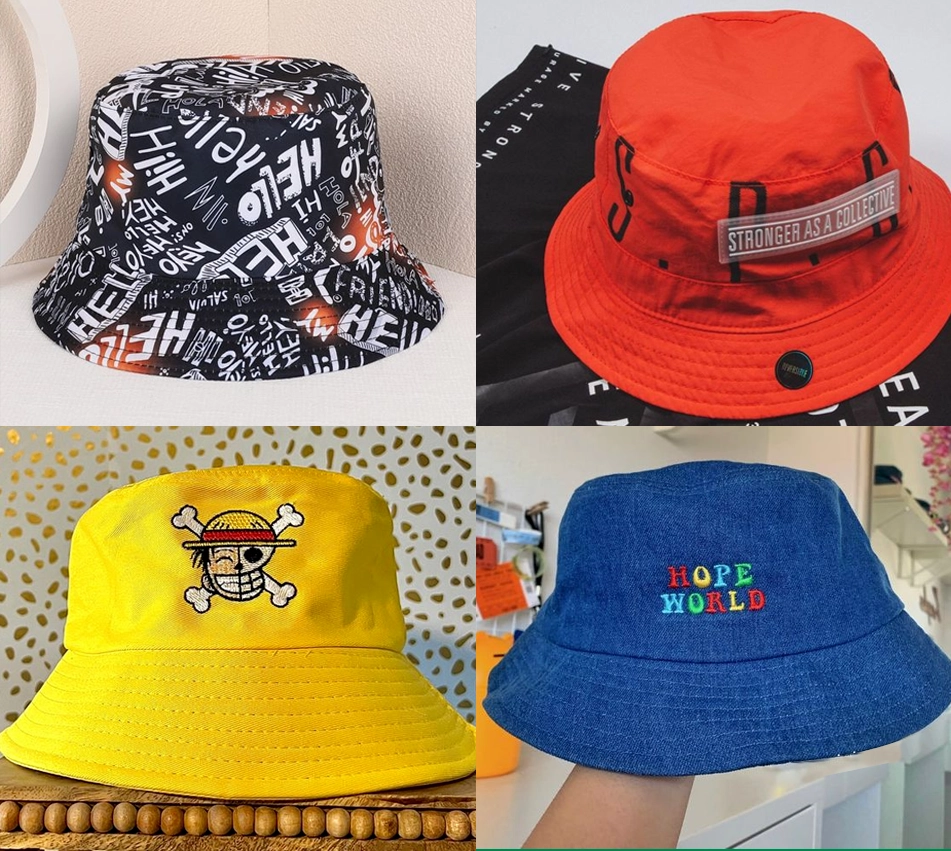 Bringing Extensive Collection Of Bucket Hat Materials In UK To Battle Against The Wear & Tear
The top-notch quality bucket cap material we use is bound to resist everyday wear and tear! Our customers carry the personalised bucket caps outdoors and stay comfortable the whole day long.
Eyeing something durable, stylish and breathable? Cotton bucket hats can be your call. It will sit around your head without making it hot or sweaty, so it doesn't irritate you throughout the activity.
Get superior protection from UV rays by getting your custom bucket cap made from UPF 50. It keeps one protected from harmful rays so your skin is protected. The higher the UPF, the stronger the protection.
A little more obsessed with your hairstyle and shine? Satin-lined bucket hats are known for their less absorbent quality that helps one maintain hair moisture and reduce friction and static.
Planning to head out in the rainy season? Complete your look with a custom polyester-made bucket cap that will keep your hair dry. It's known for its abrasion-resistance properties and keeps one dry.
We've Delivered Custom Made Bucket Caps To All!
Brands across the UK rely on us for every type of hat, from custom embroidered to printed and plain. Plus, we have worked for a variety of businesses too, irrespective of their size.
Your Bespoke Bucket Hat Is A Short Stroll Away!
You don't have to run miles with us to get your stylish and promotional bucket hats. It's as simple as ABC. Here's what ordering your customised bucket hat process looks like: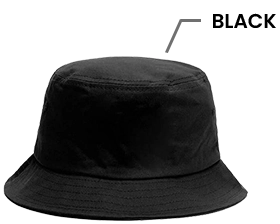 Reveal What's In Your Mind
Come up with requirements, share what design has been running in your mind, and pick the desired fabric and size to proceed with the order. We'll receive your order and get in touch with us. Active customer support makes sure to respond in a timely.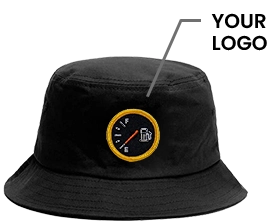 Receive The Design & Approval
If you have the design and know what you are looking for, we can jump to the next step. But if you don't have the exact design, we can help you by preparing an e-draft. You can approve it or request edits until the draft matches your imagination.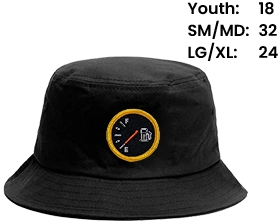 Turning Draft Into A Reality
Oh, did we mention the edits are for free? After getting the green signal, we turn your idea into a tangible reality, something that you can call 'your very own bucket hat'. It's packed, shipped & delivered to your address within the mutually decided span.
Britons Are Way Too Positive About Our Best Custom Bucket Caps Service
Taking second opinion can never go wrong! Therefore, we bring you ample of client reviews to help you with your decision-making process.
Omg! I just unpacked my personalised bucket hats, and they are awesome. The logo is placed exactly where it should be, and the finishing is top-notch. Good work, experts!
The custom printed bucket hats I received are not like the draft I approved; it's way better! It's phenomenal. The customer service was very fast and quick.
I am surely in love with this professional bucket hat maker who delivered me high-quality bucket caps without charging me over the odds. I got my first order discount as well.
After a lot of searching, I came across Caps Company UK, which was best-rated across many platforms. I really enjoyed working with them. They are truly the experts.
I have been ordering personalised caps from them for ages, and I have never been disappointed with this online service. The quality is always top-notch, and the prices are always affordable.
Our Talented Bucket Hat Designers Are So Excited To See What You Create!
Reach out to us and personalise the inside and outside of your headwear in two different designs so you can easily transition the hat from formal to glamorous party wear. Your custom-made bucket cap is made from comfortable, anti-wrinkle and soft material and will be an excellent head accessory.
Reflect Your Ideas Into A Custom Made Bucket Cap With UK's Specialist Manufacturer
We give the power of customisation in the hands of our customers. From allowing the personalisation of text to text style, design, brim, material, colour and lining, customers handpick everything. The custom printed or embroidery bucket hats fully reflect one's ideas, and they wear them proudly everywhere.
The choices of material offered by us are too vast. You can have your bucket hat made from canvas, heavy wool like tweed, heavy-duty cotton and synthetic materials like polyester. We guarantee to use high-end material for bucket hats so they are breathable, durable and lightweight to carry all around.
Perfect Bucket Hat Designers Of London, UK, Who Pays Heed To Style & Protection, Side By Side
With us as your bucket hat designer, you'll explore an ideal fusion of style and functionality, so your outdoor adventures are not impacted. The well-designed and manufactured bucket hats come with an excellent quality drawstring, metal eyelets, grommets and labels for additional finishing.
Even if you want a high-end designer bucket hat, which seems very expensive, our company can make that too for you at half of the price. So you can have it all here if you are looking for printed patterns, customised embroidery, all-over prints, bespoke bucket hats with patches or anything.
Personalised Promotional Bucket Hats That Will Make Your Brand Standout In London's Crowd
Want your brand to be known all around the country? The personalised promotional bucket hats can be your call! We make outstanding quality men's and women's bucket hats that can be customised with your brand's logo, name and colour. What's more, the shape and sizes would be adjusted by you for sure.
You can distribute them at festivals, hand them out as summer giveaways, use them as seasonal gifts and do much more. This will raise your brand's awareness and help establish client relationships. But you must make sure you buy bucket hats from professionals like us, or a poor-quality hat can easily fire back.
Get Top-Grade, Custom Bucket Hats In UK With A 'Buy More, Save More' Mantra With Us
Make a bold fashion statement by ordering a fine quality, custom bucket hat from professionals at the market's half price. How? By hiring us for cheap bucket hats. We offer our top-notch, perfect-quality bucket caps in the UK at the best prices. Customers ordering hats in bulk are given exclusive discounts.
The customisation surely impacts the final cost, but we still keep it as light on the pocket as possible. For instance, personalising it inside out can result in a higher price quote. However, customising the outer part only will keep the prices lowest. Get in touch with us, and let us come up with a custom quote.